Hari ini dah masuk hari ke-10. Since day one, without fail, aku mengikuti perkembangan laporan kehilangan Penerbangan MH370.
Aku masih ingat lagi, p
ada subuh 8 Mac, aku terima Whatsapp dari kawan mengatakan pesawat MAS hilang. At first, my impression was, "Hoax, jgn percaya sangat." But in the same time, "Macam mana kalau betul?" So i switched on the TV and there it was! Live from Awani.
The world is in shocked, particularly Malaysia.

MAS Airlines flight MH370 missing while flying from KL to Beijing. Hard to believe.

At first the word "missing" seemed describing once they "get back to the plane" everything will be alright.

Further reading realize that "missing contact" from an aircraft could mean other things. It is not like losing a signal from a handphone.

No distress signal from the plane. Sufficient fuel to destiny. What had happen?
Drawn by my son, Mukhriz.
Sedikit details tentang Penerbangan MH370, Pesawat Boeing 777 ini:
MH370 is a Boeing 777-200 aircraft on a code share with China Southern Ai
rlines. It departed Kuala Lumpur at 12.41 am today for Beijing. The aircraft was scheduled to land at Beijing International Airport at 6.30am local Beijing time. The flight had a total number of 227 passengers and 12 crew members. The passengers were from 14 different countries, most of whom are from China.
Malaysia Airlines confirms that flight MH370 had lost contact with Subang Air Traffic Control at 2.40am, today.
The flight was carrying a total number of 239 passengers and crew – comprising 227 passengers (including 2 infants), 12 crew members.
2 hours into flight, 140 miles of the east Malaysia coast at 35,000 ft, it's cruising in clear weather.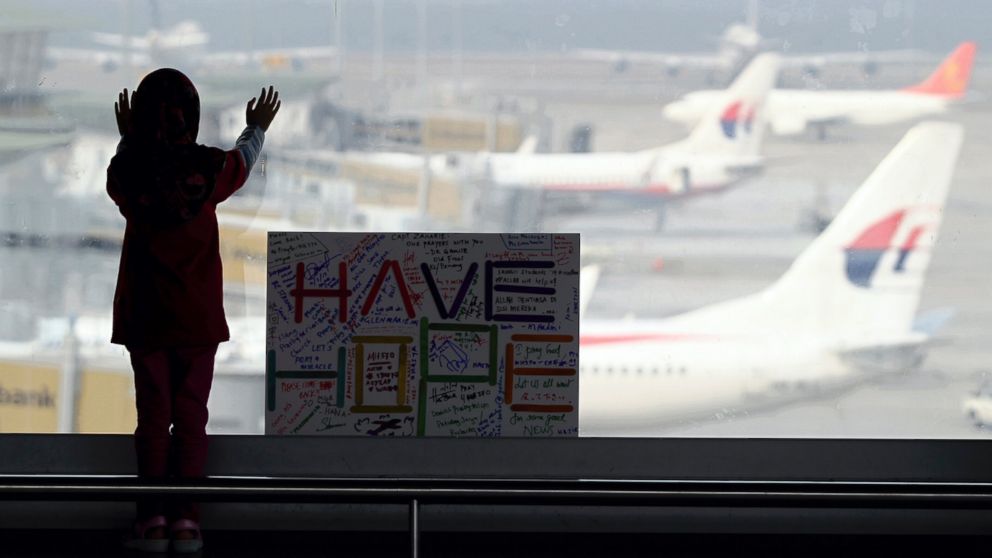 Ya Allah, jika di laut, Kau timbulkanlah. Jika di langit, Kau turunkanlah. Jika di darat, Kau tunjukkanlah, sesungguhnya Hanya Engkau Yang Lebih Mengetahui. Aminnn...
Di sini aku uploadkan gambar2 sekitar krisis kerana ini merupakan kegemparan dunia yang melibatkan Malaysiaku.
The non-stop press conference since day 1, at least twice PC a day.
The headlines around the world.
Messages of hope.
The deviated route.
The opportunist!
Oil slick spotted in sea.
Malaysian prayers.
Ahli keluarga penumpang Penerbangan MH370.
Dalam pada itu, aku sedikit terkilan dengan kesilapan pihak media arus perdana. Kesilapan ketara tersebut, sudah pun dimaklumkan kepada pihak yang berkenaan tetapi mereka seperti memandang enteng akan perkara ini. Pada mereka isi berita lebih penting walaupun butiran tajuknya kurang tepat.
Mereka memandang remeh tentang ini adakah kerana mereka ego atau kurang cerdik? Pada aku, both! Ego sebab sudah tahu salah sendiri tetapi tidak mahu dibetulkan. Kurang cerdik kerana tidak tahu membezakan antara pesawat dan penerbangan.
"Dear reporters & newscasters, it's not Pesawat MH370, it's Penerbangan MH370. If you want to say 'pesawat', it is Pesawat Boeing 777.
Or to play safe, just mention MH370.
There is a huge difference between 'flight' and 'aircraft', okay? Aircraft is the thing, the plane. Flight is the route, laluan pesawat. It's like minum dan makan. Can we say "Saya sedang makan air teh?" or "Saya sedang minum nasi lemak."?
Lu pikirlah sendiri!
*Hingga entry ni ditulis, usaha mencari MH370 masih diteruskan.
I know everyone is doing their best to search for MH370. Have faith. Pray and Hope.